Journey through hell as a preacher to save your daughter from a nasty villain by the name of Pinstripe. I purchased this game on Humble sale and immediately set to venturing through the fresh hell that Thomas Brush (Atmos Games) envisioned in this classic side-scroller. Except this is unlike any game in this genre that I have ever played.
Story
Pinstripe is a puzzle / platformer game that is available on Microsoft Windows, Xbox One, macOS, Linux, and Nintendo Switch. Set in the early 1900's, you play as Teddy, a disgraced ex minister who must travel through the depths of hell to save his daughter Bo.
Bo is kidnapped by Pinstripe and Ted must venture through hell, solving puzzles and slaying foes that stand in his path.
Graphics
The graphics in this game are absolutely beautiful. Thomas has a unique style and it shows throughout the game with beautiful layered graphics and landscapes. The animations, clip scenes and character/npc movements are well though out and all fit within Thomas's style choice.
To think that one man created this game in its entirety in a five year span of time is absolutely mind blowing.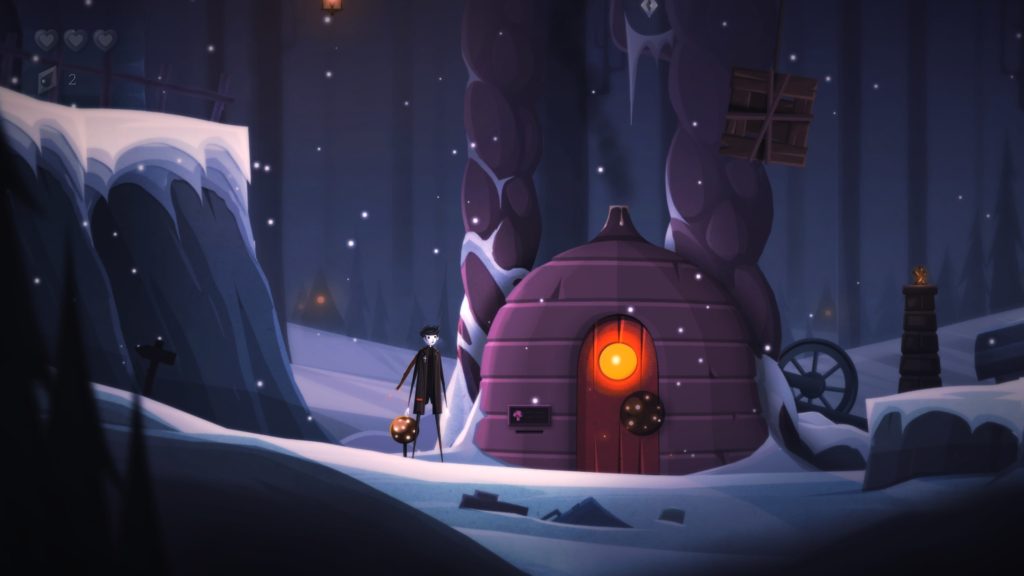 Gameplay
Game play is fairly easy with less than 10 keyboard keys needed along with your mouse. The real part that shines in this game are the puzzles and logical roadblocks that you must pass before moving onto the next area, one step closer to saving your daughter.
The movements and character actions were very fluid. I personally did not experience any issues with glitching, screen tearing, broken functions. Essentially I was treated with a masterpiece that was thoroughly enjoyable the entire play through.
Sounds / Music
The music and sounds in this game are unique and absolutely beautiful. There is some choice language in this game that may not be aimed to the younger crowd, but I personally do not feel it was over done or unnecessarily sprinkled throughout the game.
Time To Learn
The amount of time required to learn this game is very minimal. With that being said… the puzzles and objects you must find in the game to further your progress can be difficult. There was more than a few times I had to resist searching for a walk through and just think through the particular part I was stuck on.
Would I recommend?
I would definitely recommend this game. It is rather short, but an absolute masterpiece. From start to finish it took about 4-5 hours to finish and I enjoyed every minute of this breath-taking, inspiring game.
I have added Thomas's next game "Once Upon A Coma" to my wish list and will be anxiously waiting for its release. This time however, I will be purchasing at full price to support the great work that he does.
You can purchase Pinstripe on Humble Bundle. I hope you enjoy as much as I did!
See other game reviews here